---
.


.

Contact:
Stephen M. Apatow
Founder, Director of Research & Development
Humanitarian Resource Institute (UN:NGO:DESA)
Humanitarian University Consortium Graduate Studies
Center for Medicine, Veterinary Medicine & Law
Phone:
203-668-0282
Email:
s.m.apatow@humanitarian.net
Internet:
www.humanitarian.net
Pathobiologics International
Internet:
www.pathobiologics.org
Updated December 2003
West Nile Virus (WNV): Biodefense and Epidemiological Tracking


West Nile Virus May Be New Deadly Strain, USGS Tells Congress: Recent crow die-offs suggest the West Nile virus which emerged in New York in late August could be more deadly to North American bird species than to species in Africa, the Middle East and Europe, where the virus is normally found, a USGS scientist reported today at a congressional field hearing held in Connecticut by the Senate Committee on Environment and Public Works. -- December 14, 1999, U.S. Department of the Interior, U.S. Geological Survey:
| | |
| --- | --- |
| Click map for full scale graphics | Bird Migration patterns contribute to spread of West Nile Virus throughout North, Central and South America, from ground zero, New York City |
West Nile Virus in the United States as of December 10, 2003*
.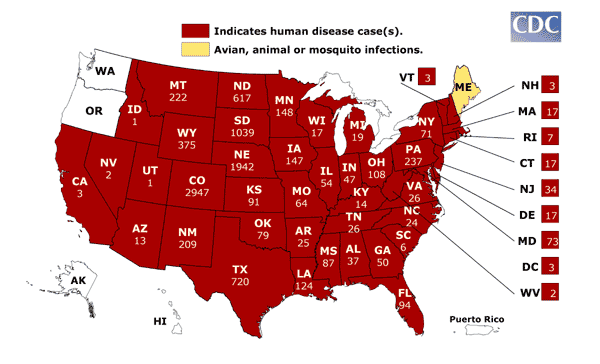 * Currently, WNV maps are updated each Week to reflect surveillance reports released by state and local health departments to the CDC Arbonet system for public distribution. Map shows the distribution of avian, animal, or mosquito infection during 2003 with number of human cases if any, by state. If West Nile virus infection is reported to CDC Arbonet in any area of a state, that entire state is shaded accordingly. Click here to visit the CDC West Nile Virus Statistics, Surveillance, and Control web site.
Click here for West Nile Virus in North America Map: From CDC and Health Canada Data as of 26 November 2002. - Joseph P. Dudley, U.S. Army Environmental Programs Directorate.
Researchers continue to monitor and test birds and mosquitoes throughout the United States for evidence of the virus. 2002 Statistics(Cornell: Environmental Risk Analysis Program):
4,156 Human Cases
284 Fatalities
44 States (2289 Counties)
111 bird species - CDC's West Nile Virus avian mortality database.
14,358 equine cases in 40 states were reported to USDA APHIS - nearly 20-fold the case load reported by 20 states last year.
USGS West Nile Virus Maps
2002-2003 Progression of Spread

U.S. Bird Map

.

.

Human Map
.

.
Mosquito Map
.

.
Sentinel Map
.

.
Veterinary Map
.

References:
---
Back to the West Nile Virus Reference Library.....Emerging Infectious Disease Network
Copyright © 1994-2003 Humanitarian Resource Institute. All rights reserved
.